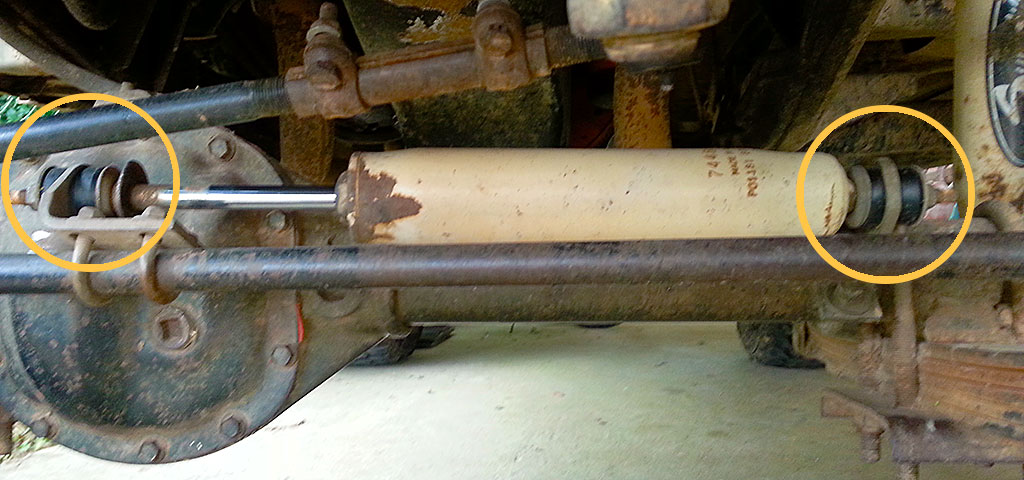 Pit Stop for Daisy - Needing A Little Additional Suspension Repair
July 30th, 2018
During the inspection where I discovered the missing or crumbling sway bar quick disconnect bushings I also noticed the steering stabilizer bushings were completely missing as well. The shock was just rattling back and forth. Here again not having done any of the custom work myself, the first task was to figure out the brand, type and size of the steering stabilizer bushings. There were no real markings on the piston itself, but with the other Superlift suspension parts, I placed my bet on them.
If I wanted to replace the stabilizer, I found a Rancho Steering Stabilizer here on 4WheelParts.com. No need in spending the $87, if I could test the shock and purchase bushings. From searching through several forums, the test was to remove the stabilizer then push and pull the piston rod to see if it had an equal amount of very firm resistance. It also should not move in or out once you let go being a hydraulic and not a gas shock. Well, even though the shock looks rather rough, it passed the test. Now just find some bushings for it.
Just as with the sway bar bushings, Energy Suspension Parts came through! I needed two sets of shock and steering stabilizer bushings here at EnergySuspensionParts.com part number 19902 as shown circled in orange in the photo. Perfect fit for $5.25 per set.
DAISY
THE POKE AND MOSEY MACHINE
Even though we have always enjoyed a good road trip, our enjoyment of scenic drives down old country roads became even more exciting after our purchase of a 1985 CJ-7. It is the perfect vehicle for the great outdoors and with the bikini top provides an open vehicle to see the sights, hear the sounds and feel the wind on our faces. She may not be the prettiest, but definitely has increased our enjoyment to poke and mosey around the countryside. She has become known as Daisy.
Look up at the rain,
the beautiful display of power and surrender
Giving us today...
...who will take the blame
For all redemptive motion and every rainy day
When He gives Himself away

Let it go, Daisy let it go
Open up your fist this fallen world
Doesn't hold your interest, it doesn't hold your soul
Daisy, let it go
"Daisy" written by Jon Foreman. From the Album Nothing Is Sound by Switchfoot