A Sole Surviving Original
April 16, 2019
Whenever we hit the road, we often, well occasionally, have a destination in mind mainly to eat, check out an antique store, attend an event or see a particular sight. Primarily the destination gives us the opportunity and challenge to find the best out of the way back roads to take. The destination sometimes can be rather vague as in this instance "Rogersville, Alabama".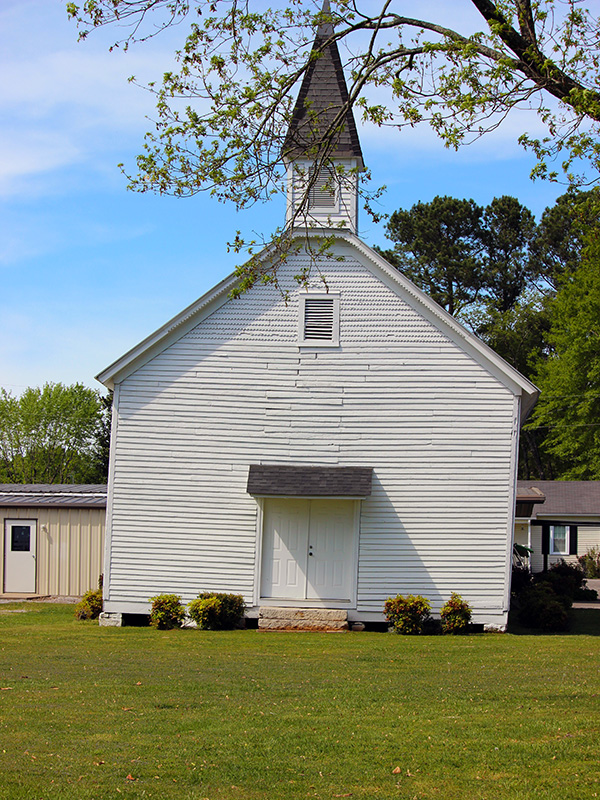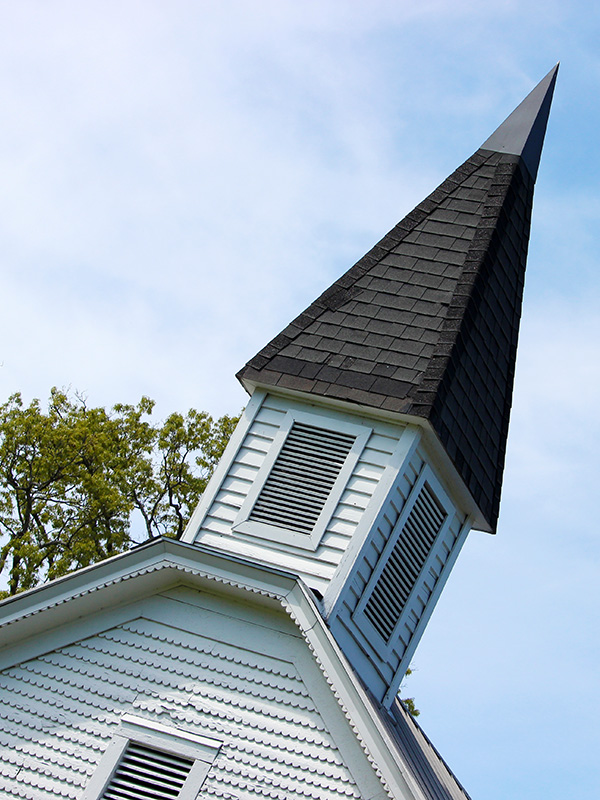 While in Rogersville, we ran across this old church... leaning, but still standing. From a nearby historical marker we discovered the following:
The earliest place of worship in Rogersville was a brush arbor located approximately 200 yards west of this historic location in what is now the old Liberty Cemetery. A building in which several faiths worshipped was later constructed on that site.
The trustees constructed a meeting house on the two-acre lot about 1855 when a trust agreement was made with the creditors. This building was two stories high and was used as a church serving several faiths and also as a community school. At an unknown date, this building burned and the present one was erected in 1889.
The property was deeded to the Town of Rogersville on September 20, 1975.  In an effort to restore the historic property, a group of local citizens formed the Rogersville Historical Preservation Committee in 1997.
The historic church holds the distinction of being the last surviving original place of worship in Rogersville.
Methodists of the Crowdabout Valley
October 19th, 2018
After eating at the The Old CookStove Restaurant we headed out to explore a little around the area and found an interesting church with a long history.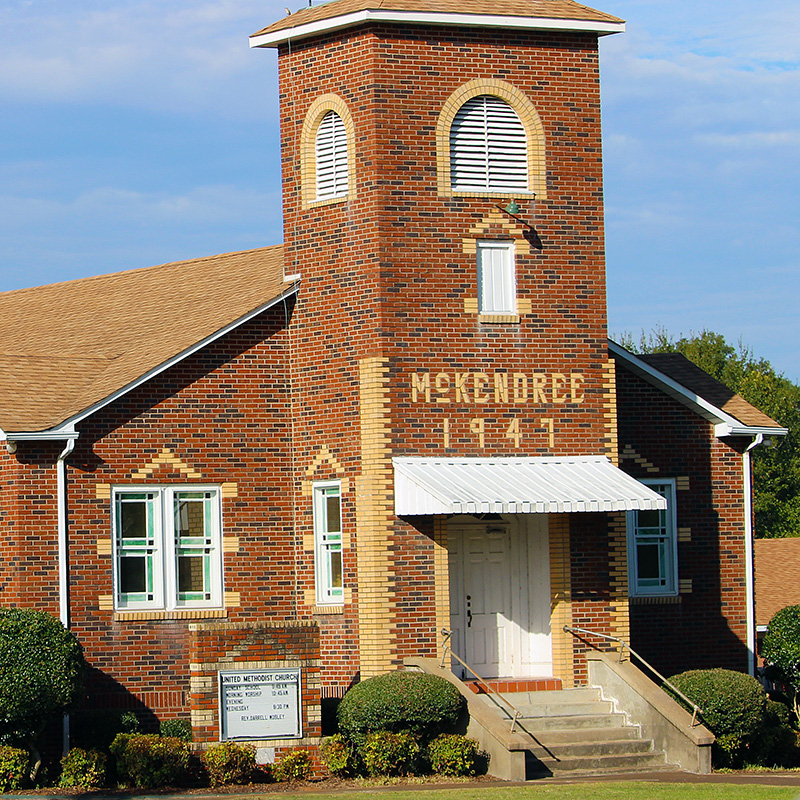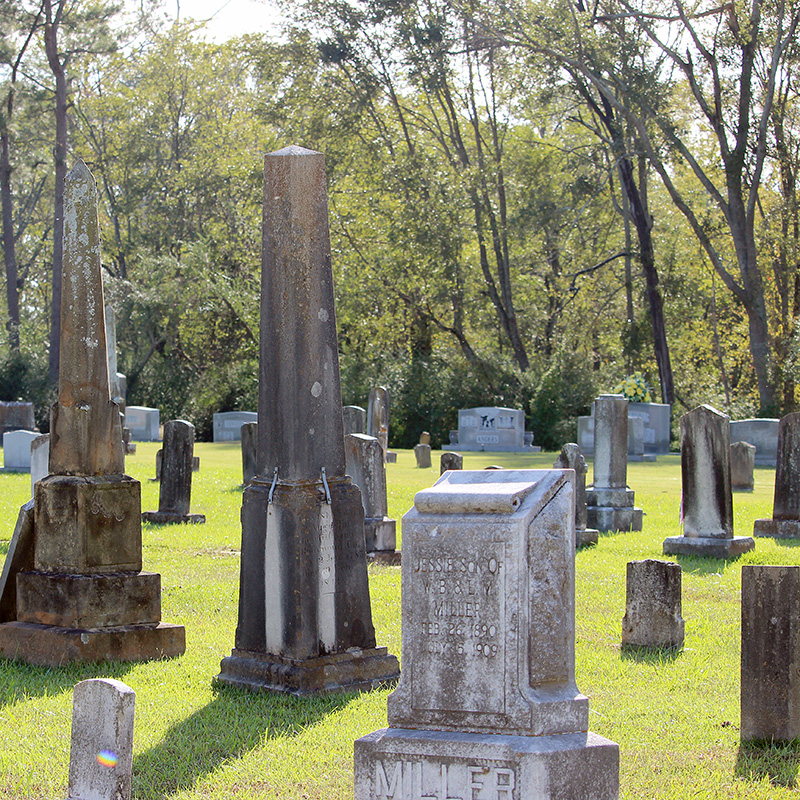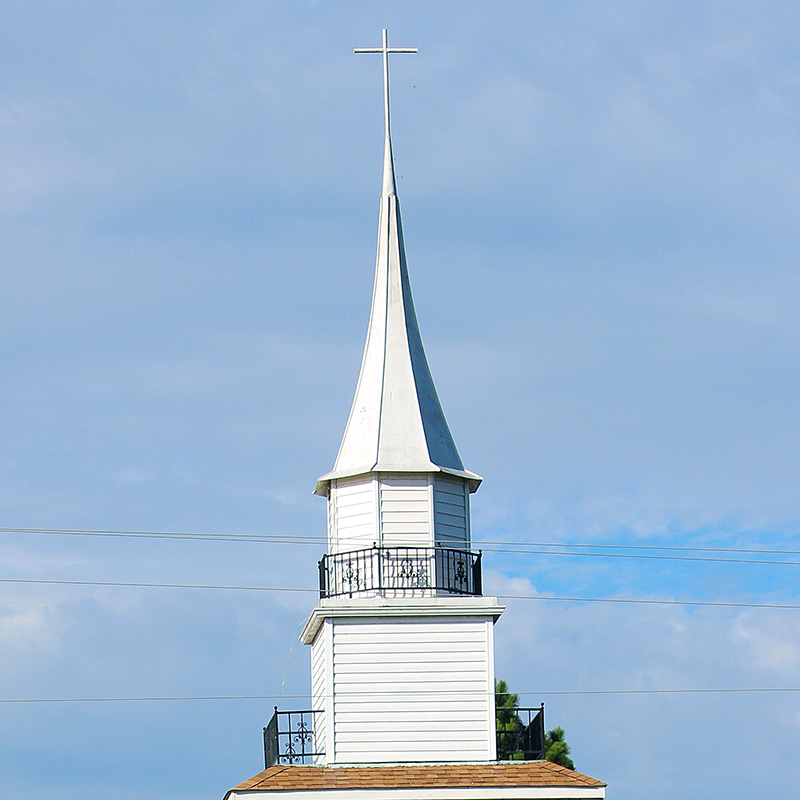 The following excerpts are from a story written by Rhona H. Summerford published in "The Heritage of Morgan County, Alabama" by "The Morgan County Genealogy Society".
In Anson West's History of Methodism in Alabama, published in 1893, he describes the creation of a society of Methodists in North Alabama's famous Crowdabout Valley as early as 1824.
Crowdabout Community, according to John Knox in his History of Morgan County, 1967, was scattered and was made up of parts of Danville, Massey and Cedar Plains areas. Its area roughly followed the meanderings of Crowdabout Creek. The society which met in Crowdabout Valley in the southwestern corner of Morgan County organized what was to become McKendree Church at least as early as 1823-24.
Early services were held in the homes until Larkin Rogers gave a small log structure to Wiley Speaks, who gave it as a church. The old barn was repaired to make a meeting place. Services were held there until 1840. John Knox writes that in 1840, Augusta Hewlett donated land where the present McKendree Cemetery stands. The building on the cemetery lot became too small and a second log building had to be constructed. This building lasted until the congregation had to build on the lot across the street from the church building.
Need for added space caused this growing group of methodists to construct a larger frame building on the Southeast corner of the lot a few years later. This fourth building was erected by members in the community in 1887. It was used until the present church was built in 1947. In 1959 a lovely new steeple was added.
A Beautiful Old Church
July 1st, 2018
There's no better hidden treasure than an old country church! I LOVE them.. so much beauty and character. Boy, if the walls could talk, what stories would they have to tell! And this church was no exception. We couldn't believe it when we came across it on one of our traveling adventures, we even went back a second day to get better pictures.
Obviously a forgotten treasure that hadn't been used or taken care of in years. We could see pews still on the inside, and believe me the thought crossed my mind to slip inside and look around, maybe take a pew or two..., but it was snake season and taking something from a church or anywhere is never a good idea. We also could see Martins flying around inside further confirming the fact that no one had been inside in years! Still, there it stood as we rounded the curve, still so majestic and beautiful, even in its disarray.
We later discovered it was once known as Gaston Chapel or Gaston Church. Can't you just imagine the people going in and out of those doors on a clear Sunday morning? I'm sure in its time, it was a gathering place of worshippers thankful and proud to have a nice building to worship the Lord and learn about His Love. Such a shame to see it left, unattended. I'd love to purchase and move it to a central location. Maybe turn it into a wedding venue, but that's another story and another life entirely. For now, I'm amazed how small treasure from the past are just around the corner, in plain sight, or in forgotten places.