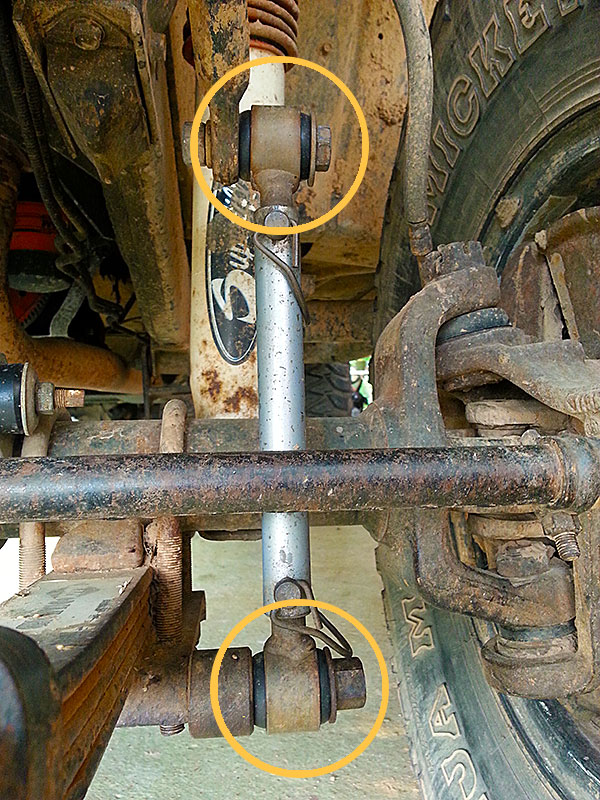 Pit Stop for Daisy - Needing A Little Suspension Repair
July 30th, 2018
Shortly after putting Daisy through muddy fields, swampy creeks, woods and a good number of road trips, she developed an awful rattle in the front end. A quick inspection revealed 3 out of the 4 sway bar disconnect bushings were either crumbling from age or missing altogether. Not having done any of the custom work myself, the first task was to figure out the brand, type and size of the sway bar disconnects.
After a thorough search of a number of online Jeep and off-road parts stores, the best match were Warrior Sway Bar Quick Disconnects, 10 inch, Eye-to-Eye. If I wanted to buy new ones I found them on ShopJeepParts.com. Personally, I didn't want to spend $169 for a brand new set when I really only needed bushings, but I could not find them anywhere.

Finally, I ran across Energy Suspension Parts and hit the jackpot! If you need bushings they probably have it. If you own an old set of Warrior Sway Bar Quick Disconnects you realize the inside of the eye is hourglass shaped, so a straight walled bushing would have too much play and wear out quickly. They need a "Shock Eye Bushing" as shown here at EnergySuspensionParts.com part number 98107 or 9.8107 as shown circled in orange in the photo. Perfect fit and for $4.01 per set! My kind of repair!